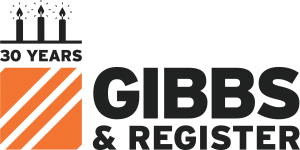 HAPPY 30TH BIRTHDAY!
This year we are honored to celebrate our 30th Anniversary. As we travel down the road to see what's ahead, we are also reminded of the many valued relationships that have helped us over the past 3 decades. Gibbs & Register would like to take the time to let you know that our success is not possible without your contributions.
Over the past 30 years, we have built numerous projects that have been a part of the growth and transformation that has taken place throughout the state. Our success and longevity are due to many factors, but most importantly, the credit goes to the talented, dedicated group of employees that we are proud to call family.  We would like to thank each and every member of the G&R family past and present for your contributions and commitment to our collective success.
As Gibbs & Register looks down the road, there will be some ups and downs, and even a bump or two, but wherever the road takes us, we will enjoy this journey with you!